Addie & Jake have lived in downtown Des Moines for a while, so it was only natural to feature some of their favorite local spots for their engagement photos.  We started at their apartment for some rooftop views of the Des Moines skyline, and then went on to explore some of their top spots!
We dashed inside for a quick "family Christmas card photo" featuring their sweet dog and adorable cat.  I love these!
Addie shared with me that because they live close to downtown, she is able to walk to work (which I LOVE).  When you get out of your car, you usually find the best spots for photos!  This next location, close to the Meredith Corporation (home of publications like Better Homes & Gardens) is one I've driven by countless times and have seen other people use for photos, but I've never had the opportunity.
I love that in Des Moines, there is so much variety for options for photos all around downtown.  We can have beautiful green trees and landscaping, skylines, and old historic buildings, all within a 5 minute drive.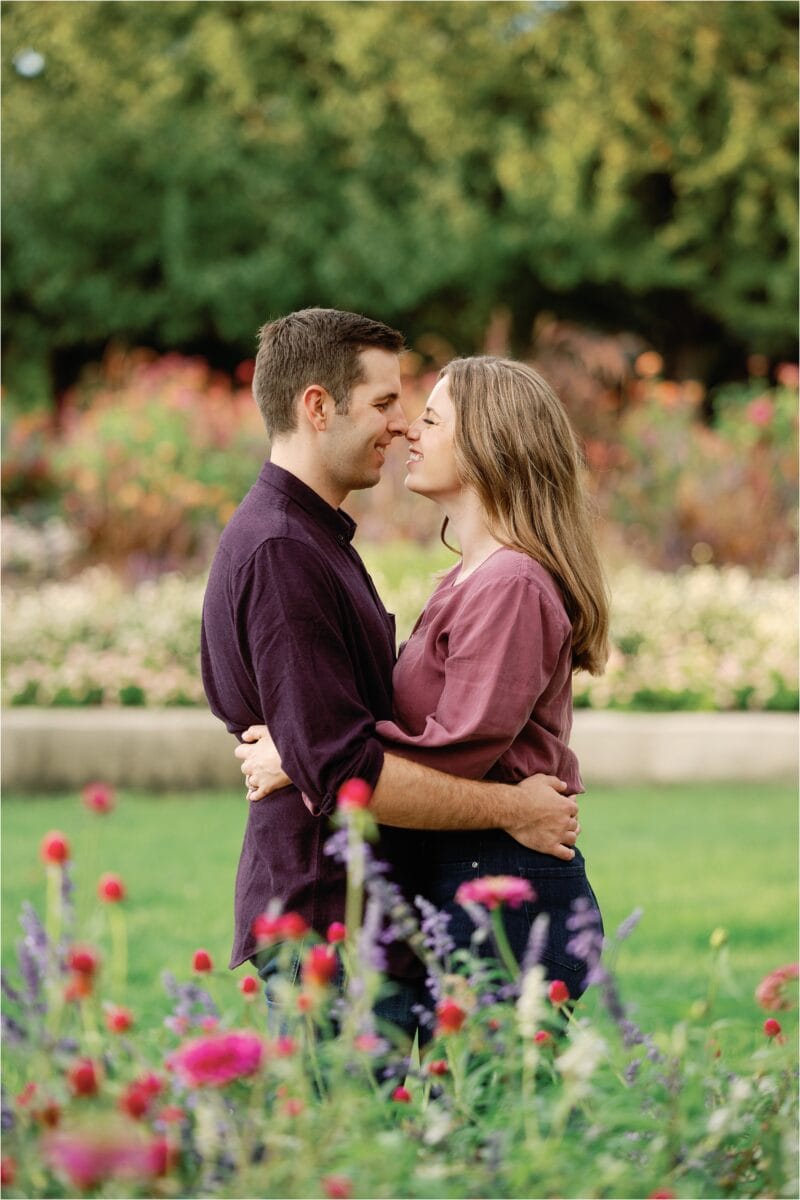 Addie mentioned this is one of her favorite buildings in Des Moines, so of course we had to stop for a quick photo!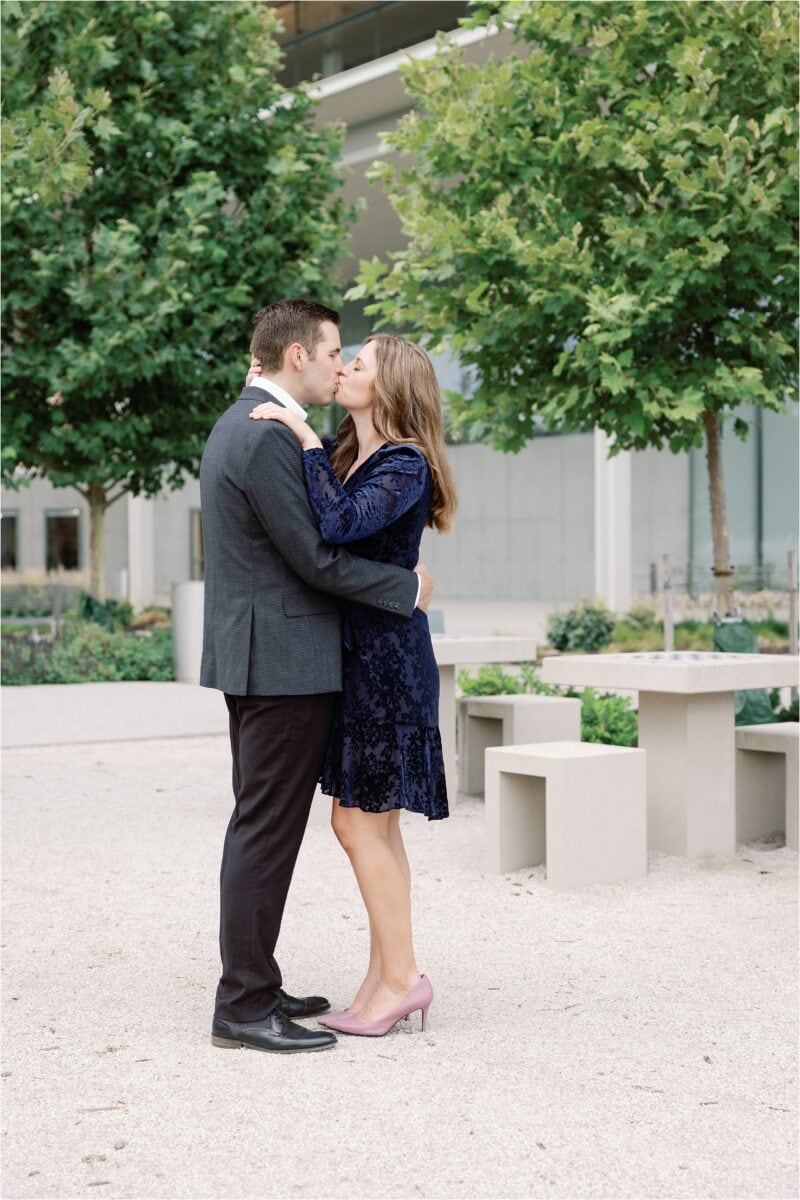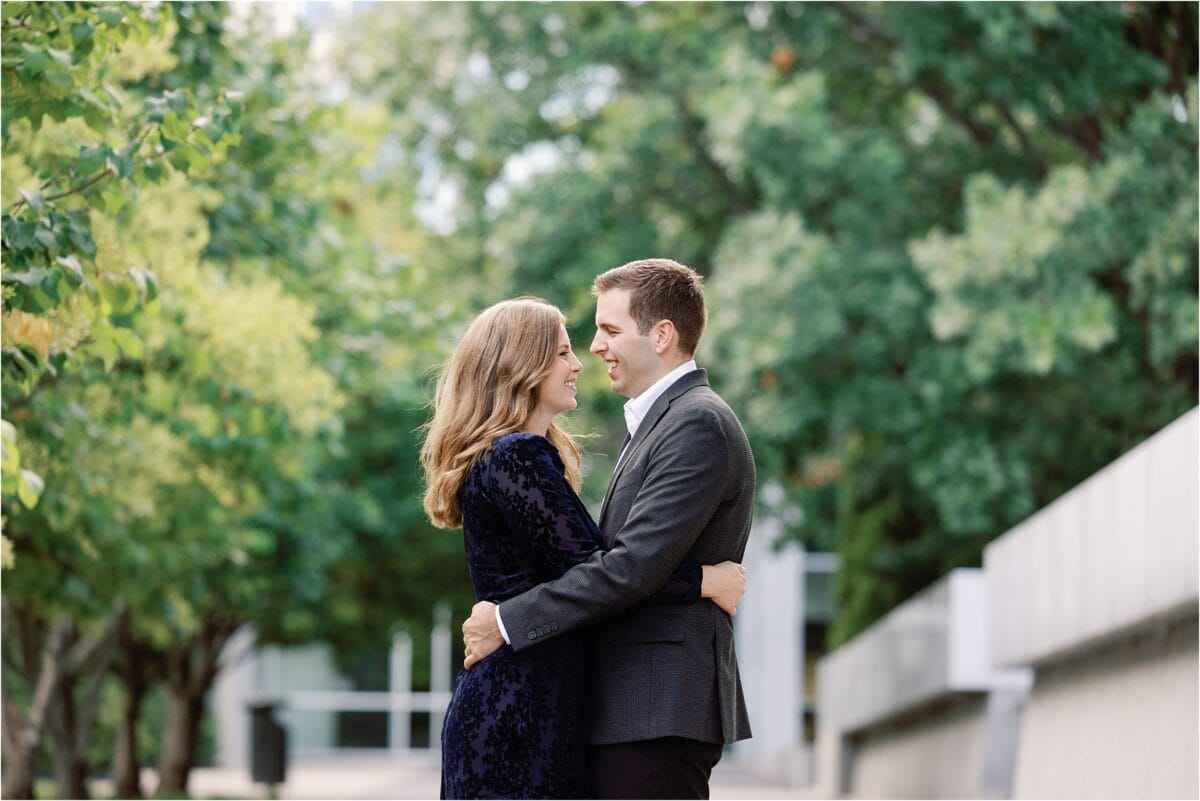 Jake made a very valid point about 2 minutes before this: maybe taking "street photos" at 5 pm on Grand Avenue (a fairly busy street in downtown Des Moines) isn't the best idea.  LOL!  We waited for traffic to pass and were totally fine after a moment.
We stopped by Hotel Fort Des Moines for a few quick photos as well.  This day was unseasonably hot (nearly 100 degrees in September) so we were grateful for a brief air conditioning break.
I will forever be obsessed with the chic styling inside Hotel Fort Des Moines.  I love this place!
A quick outfit change and then we headed over to Waterworks Park and Grey's Lake.  The skies were starting to turn dark and it was just starting to sprinkle as we took these next few photos…
And then, it POURED rain for about 20 mins.  Thankfully, we were in the car at this time, so we took the opportunity to talk over their wedding day, get some timeline things figured out, and by the time the rain stopped it was PERFECT outside!
Don't these feel like fall?
It was such a joy to get to meet you both finally, and I look forward to your wedding at Des Moines Golf Club next year!  For more favorite downtown Des Moines engagement sessions, check out these posts:
Abby & Logan's Engagement Session
Catie & David at Art's Center & Valley Junction