When two introverts meet for their first date and talk for hours on end, that's definitely a good sign!  That's where it all began for Tina and Chris, who found they share a mutual love of travel, art, good wine and delicious food.  Which is perhaps why I get along so great with them!  They are both hard working and kind individuals who care deeply about their closest friends and family, and yet I totally laughed with amusement when I read that the thing they were looking forward to the most for their wedding day was "the end."  I get it!  A big lavish event with 100s of people you barely know isn't for everyone, which is why their wedding day was perfect for them.  Small, elegant, and with your closest loyal friends.  Tina and Chris chose to have an intimate ceremony and reception held at the Palmer House and Stable in Solon,  with the most incredibly elegant decor combined with the perfect food and wine pairings.  It was 100% "them," withy absolute favorite part being their heartfelt vows.  They were incredible.
Congratulations to Tina & Chris, and may you "tolerate" one another for the rest of your lives 😉
Vendors:
Venue ||  Palmer House Stable
Planning & Coordinating || Soireé Wedding Planning
Florals, Linens, Chairs ||  Unique Events
Antique Rentals || Borrow My Vintage 
Invitations || Allegra Iowa City
Catering || Blend
Cake || Take the Cake Desserts
Officiant || Celebrate Human Life
DJ || BAM Productions
Ceremony Musicians || Marion Chamber Trio
I don't know the history of the inside joke, but it carried over to the custom cufflinks Chris wore.  I want to know the full story!
Tina's shoes were incredible!
Beautiful custom pocket invitations and a Dave the date featuring their engagement photo – all perfectly color coordinated!
Surrounding yourself with the people who have stuck by your side through the years is the best piece of advice I could give to any bride.  I loved hearing the stories of how all of these brilliant women are connected to Tina!
The rich merlot color of Tina's bouquet was breathtaking.
Her beautiful dress was begging for a twirl.
This gorgeous shot was taken by Beth while I was outside shooting from down below – and I LOVE it!
In love with all of the lighting at Palmer House!   It can be much more dramatic, or light and soft….and that balcony is perfect too!
Guests signed Jenga pieces for their guestbook – I loved this idea!

I don't usually comment much on officiants unless they are someone the couple knows personally, but when you have been to over 100+ weddings in less than 6 years, the good ones really make an impact.  Andrew from Celebrate Human Life was one of the few and I would absolutely recommend him!  He was wonderful.

When the sand pouring takes a bit, it's good for a laugh 🙂
Married!!!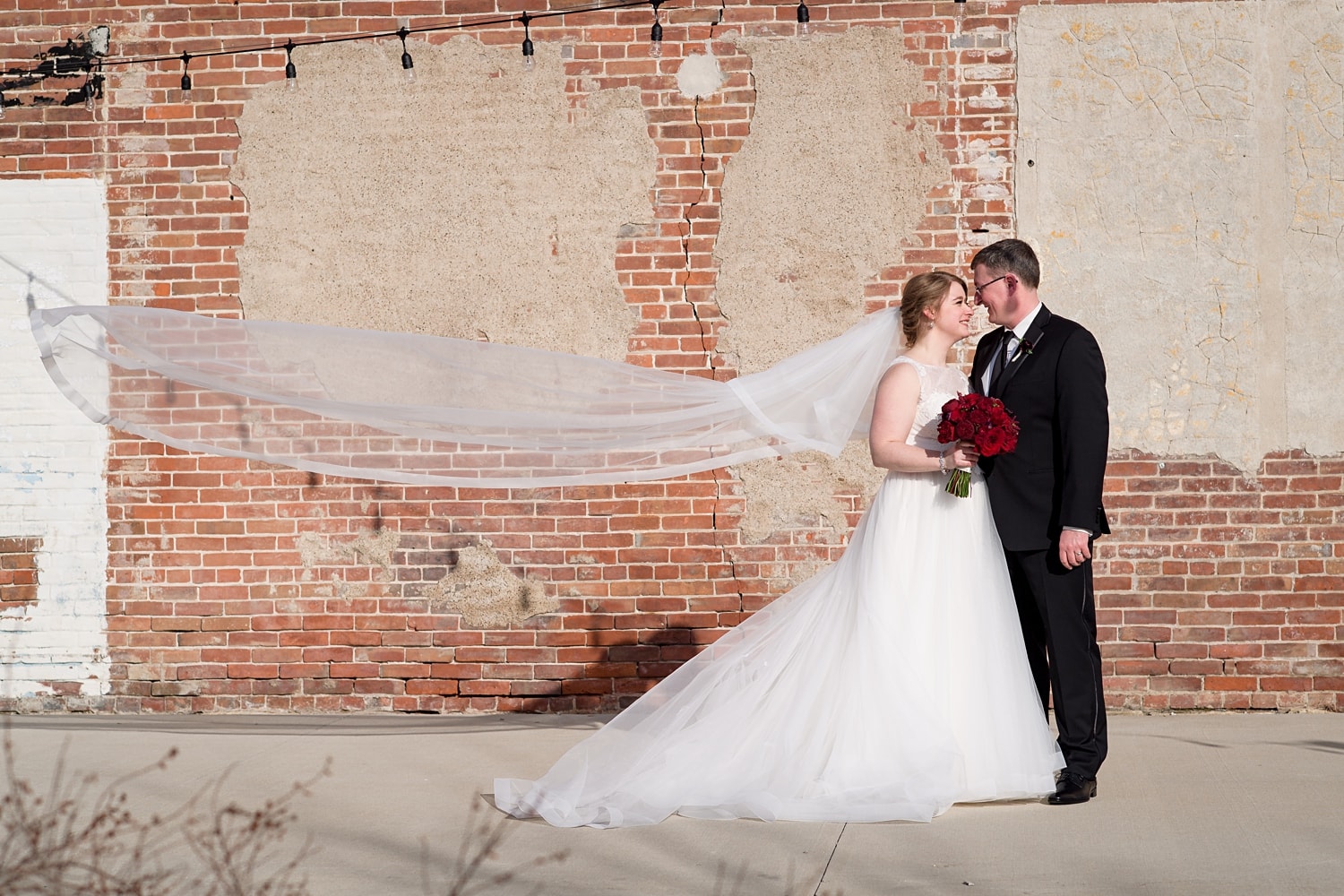 Super bright and sunny on an exceptionally wonderful March day means a few portraits outside!
A HUGE thank you to the team at Unique Events who flipped the space in less than 30 minutes.  Moved chairs, rearranged tables, set everything to perfection.  It looked incredible!
This beautiful buffet from Borrow My Vintage paired perfectly with the cake and decor.  I"m also in LOVE with the coper colors in the florals that pulled it all together.
Super tasty food provided by Blend – it was delicious!
Downstairs, there was an elegant seating area for guests during cocktail hour and dancing.  I love this idea!
My new favorite thing is sneaking into the reception space with the couple before their guests get to see everything – it gives us a few moments to capture a few photos before everyone enters.
We snuck out again at the end of the night, just as snow was starting to fall from the sky!  You can barely see it in the last photo, but it was the perfect ending to a beautiful day.
Congrats Chris & Tina!!!